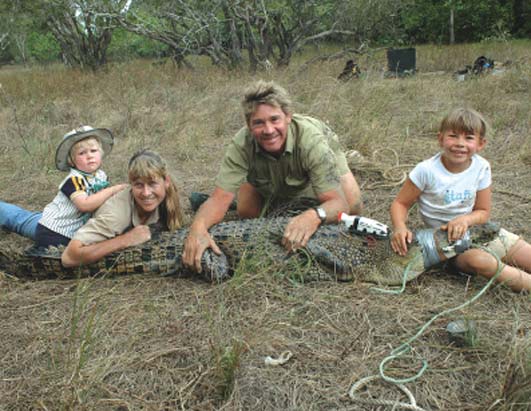 Aussie adventurer Steve Irwin a.k.a.''The Crocodile Hunter" along with his sidekick and wife Terri Irwin has got a news that a Big Crocodile is in danger and has to be stopped being killed
and it has innocently swallowed a top secret U.S. satellite beacon.

The US Govt has sent a special agent to retrieve the beacon and think that Steve is some kind of Evil agent. Now Steve has to save his name and also save this BIG CROC being killed. Will Steve able to do the both? Well you have dive inside!!!

For those who haven't seen the TV shows, the stout 40-year-old -- always in safari shirt, shorts and boots and in good humor -- is maniacal as he hunts down the world's most dangerous species of animals to teach viewers about them. The Irwin's teach respect for wildlife and conservation, a message that rings loud and clear in ''Collision Course.''

''We're conservationists through and through, that's our mission. I'm fanatical about that. That's what makes us tick. The movie, ''Collision Course,'' is not far removed from the TV shows, and that is how Irwin and long-time producing partner John Stainton wanted it. Irwin is wild enough and engaging on his own. There was no need for him to try to ''act.'' ''I wasn't allowed to fully understand the story, and I've never seen a script, because the genius of (it) is keeping us completely natural,'' Irwin said about himself and Terri.

Collision Course'' is, really, a series of scenes with the pair hunting Australian wildlife exactly as they do on TV.

For all you guys who wanna see them chase a carnivorous Perentie lizard, which can grow to over 6-1/2 feet long. They catch a bird-eating spider, also called a barking spider, and a venomous king brown snake. They find a motherless kangaroo and nurse it back to health and mainly save the croc and also teaches us the importance of respect for wildlife and conservation. Kudos to the team of this movie and i wish them all the luck and happiness in this world !!! Crikey!